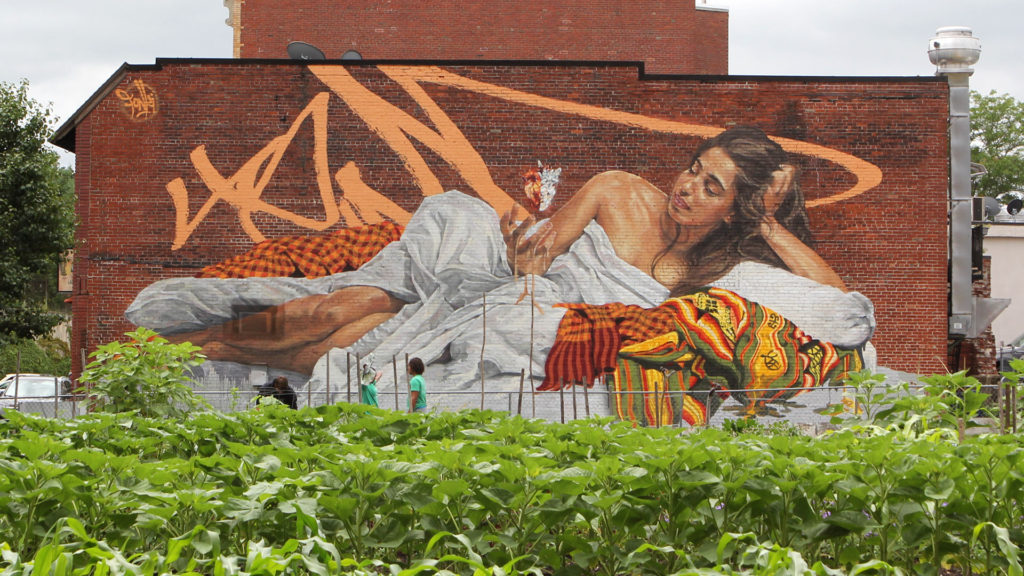 "Every place is a goldmine. You have only to give yourself time, sit in a teahouse watching the passers-by, stand in a corner of the market, go for a haircut. You pick up a thread – a word, a meeting, a friend of a friend of someone you have just met – and soon the most insipid, most insignificant place becomes a mirror of the world, a window on life, a theatre of humanity."
― Tiziano Terzani, A Fortune-Teller Told Me: Earthbound Travels in the Far East
The source of inspiration and life for this piece first takes its roots in the beautiful city of Lynn. Upon first glance, Lynn is no more but a run-down, bland, long forgotten place to the world.
In contemporary folklore, Lynn has been depicted as a real-life Sin City, run-down and unsafe. Popular rhymes further deepened such stereotypes:
"Lynn, Lynn, the city of sin, you'll never come out the way you went in, what looks like gold is really tin, the girls say "no" but they'll give in, Lynn, Lynn, the city of sin".
Organizers of #BeyondWallsLynn festival wanted to shake up these old narratives. Those who went in willing to embrace Lynn, discovered that its rich complexity might well be its only sin – for its people and its walls shine light on humanity, bright like one thousand diamonds.
"I Sculpted my Heart Out of Diamond 'cause Love Ain't Enough" is a tribute to love, migration and resiliency.
TO LOVE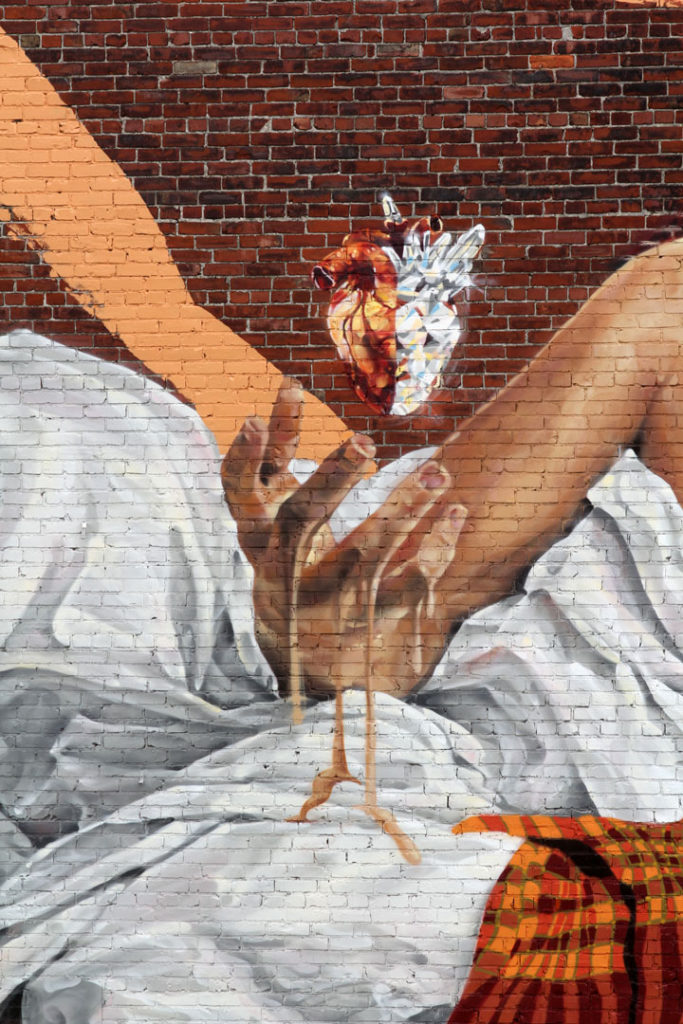 I embraced a style to bow down to the old Masters of painting from the Renaissance to Classicism, mixed with my personal, contemporary influences from the "classic school" of street graffiti.
I aimed to capture the oily rendering of Old World paintings, juxtaposed with a contemporary tag by TEMP, a graffiti pioneer from Lynn. I left some of the aging bricks untouched to keep their patina and history visible outside. Inside, fittingly, the soul of the building was once home to the Pittsburgh Paint Shop, from which all graffiti work in Lynn in the 80's and 90's sourced their paint.
The piece is also a personal reflection on love. The French rapper Oxmo Puccino wrote "I sculpted my heart out of diamond 'cause love ain't enough". I felt this resonates with lots of us, exploring the boundaries beyond love and carving our own stories in raw emotions.
As a tribute to women, the wall depicts Hejer's expression, elegant and proud. I wanted to show my respectful appreciation for female sensuality and femininity, without objectifying them.
During the painting process, little girls watched. Trying to guess who Hejer was, they yelled:
"It's a SISTER!"
"It's a MOTHER!"
"No, it's MOTHER NATURE!"
This was one of the most powerful moments for me, witnessing young kids, full of love, proudly understanding the piece through their own stories.
TO MIGRATION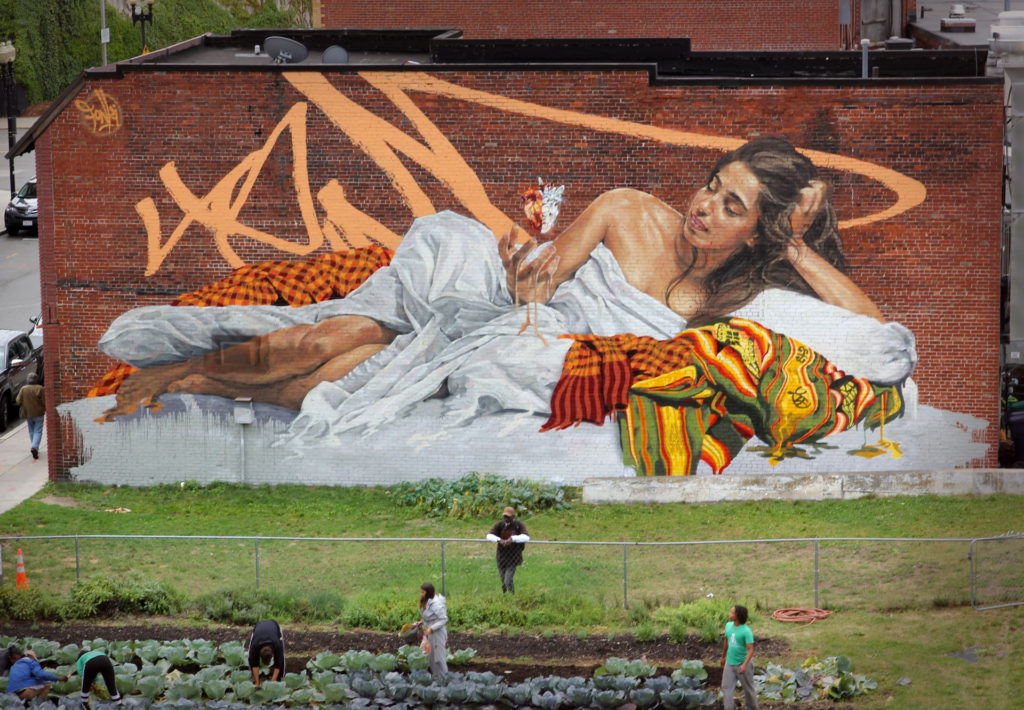 Like so many other cities on the American East Cost, Lynn was once a bustling immigration hub. Polish and Russian Jews arrived in the late 19th Century, shortly before the city became the leading center for shoe making in the world. Today, Lynn remains the home to many immigrants. Among others, the city hosts the 3rd largest Cambodian population in the United States.
Life as a migrant is a true mirror of the world. Starting a new life abroad can be incredibly harsh, but also full of love, hope and more of the best humanity has to offer. 
Hejer's is the product of one of those countless stories of migration. She moved from Tunisia to Canada early in adulthood. Through the years, she studied Fine Arts, became an art commissioner passionate in exploring the revolution in her country and humanity. Her story is universal and therefore belongs to Tunisia, Canada, but also to Lynn and beyond.
TO RESILIENCY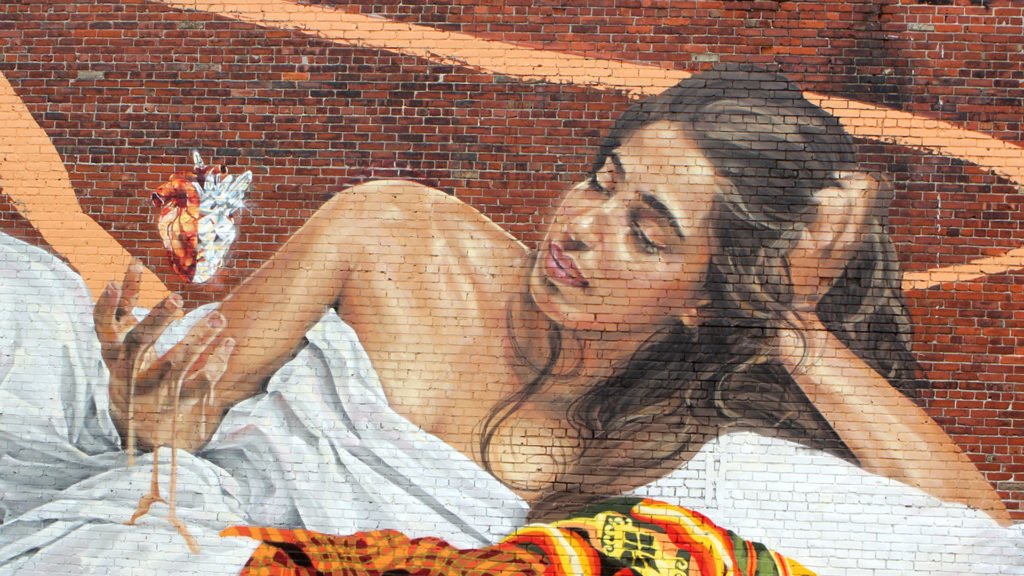 We find resiliency in both love and migration, to find the strength to recover from difficulties.
Hejer's mother passed away 10 years ago, prompting her migration to Canada. Just like the women and girls I met in Lynn, Hejer is warm and full of life. They are incredibly loyal to whom they love and those who return that love. Across the world, mothers, women, are the ones holding families and entire societies together. Mother Nature is a source of beauty and balance. It was such a nice coincidence to have that large urban garden facing the painting, putting the perfect finishing touch to the entire piece – to exude peace and zen, offering comforting protection to the passers-by.
Some countries build walls between each other. I paint them, because I think people can find refuge in art.
Much of my work, including this one, salutes the common courage and resilience of those who love, and those who migrate. Globalization does not only yield economic opportunities and development. Globalization connects stories, makes us bound to one another's joys and sorrows. This connection entrusts us with the responsibility to offer refuge to those looking for one.
A refuge in our homes, art or hearts.
****
July 2017. Beyond Walls Lynn Festival
Special thanks to the organizers Al, Amanda, Pedro and the whole Beyond Walls Team! To all 19 other crazy invited artists for the FunTimes & memories! To Courtney and Vanaka for their beautiful writing! To all the beautiful people of Lynn for their support, good food, drinks and good vibes!